PermataMobile X 1.1.4 APK
Download PermataMobile X 1.1.4.apk APK BLACK files version 1.1.4 net.myinfosys.PermataMobileX Size is 59479117 md5 is 403fa6f6833a823c84c9c56d41967757 Updated In 2018-09-18 By PT Bank Permata Tbk This Version Need Jelly Bean 4.1.x API level 16 or higher, We Index 1 Version From this file.Version code 11 equal Version 1.1.4 .You can Find More info by Search net.myinfosys.PermataMobileX On Google.If Your Search myinfosys,permatamobilex,finance,permatamobile Will Find More like net.myinfosys.PermataMobileX,PermataMobile X 1.1.4 Downloaded 227 Time And All PermataMobile X App Downloaded 3149 Time.
Comid:net.myinfosys.PermataMobileX
Keywords:myinfosys,permatamobilex,finance,permatamobile
Version: 1.1.4 (11 code)
Dev: PT Bank Permata Tbk
Requirement: Jelly Bean 4.1.x API level 16 or higher
Updated: 2018-09-18
size: 56.72 MB (59479117 Byte)
MD5: 403fa6f6833a823c84c9c56d41967757
Cpu: armeabi-v7a
Screen: SMALL
Description of PermataMobile X net.myinfosys.PermataMobileX
We refreshed our mobile banking app. We simplified by making it more powerful, beautiful, engaging, stimulating as customer's intimate app to do banking. We simplified banking complexities. We are making our app so quick, so fluid, easy to access and excited making our customers doing more and get
PermataMobile X 1.1.4 News
We continue to listen and improve our design. You'll notice some small, but substantial upgrades on our latest update. Yeah!! We significantly reduce our app size while at the same time upgrading its performance. Also in this release are several bug fixes and improvements. Apply now! With over 50 improvements in this version, we guarantee you will have a faster, slicker and smoother banking experience.
Download
E2:95:FD:89:65:D8:EB:C9:CE:7B:94:74:E2:8C:1E:86:4E:E2:32:23
CN=CodeSigning for PT. Bank Permata Tbk, OU=Android Code Signing, O=PT. Bank Permata Tbk, L=Jakarta, ST=DKI Jakarta, C=ID
Screenshot PermataMobile X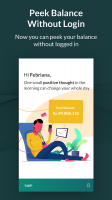 Other PermataMobile X APK Versions For Android